IFZA FREEZONE IN DUBAI
IFZA is a business hub regulated by Dubai Silicon Oasis to setup company in Dubai. Within a short span of time, IFZA became the most favorite choice among global investors due to the attractive company setup packages with the option of having 3 year and 5 year license packages. International Freezone Authority has earned the reputation of being the cheapest free zone to setup business in Dubai. The availability of multi-year license packages and a wide range of business activity list makes IFZA a unique Free zone in UAE. IFZA is equipped with ultra-modern high tech offices and warehouses for leasing at Dubai Silicon Oasis.
Benefits of Ifza Freezone
Physical presence of shareholder is not required.
100% tax exemption (excluding 5% VAT).
100% foreign ownership.
No Physical office is required.
Wide range of business activities available.
No paid-up share capital requirement.
No annual audit report is required.
Ability to incorporate holding companies.
2 years UAE Residency visa for Owner & Employees.
No documents except the passport copy is required.
Multiple activities can be combined in one license.
Process of formation of company in Ifza Freezone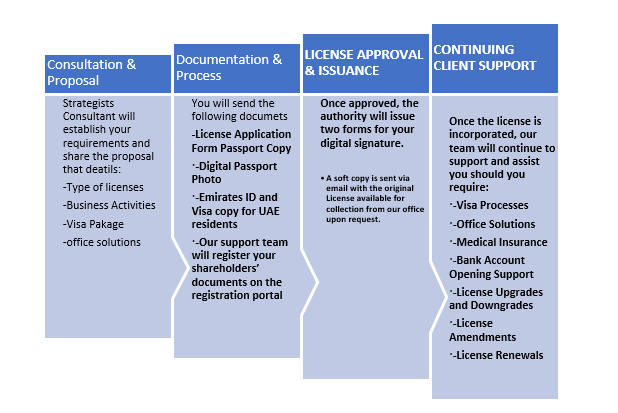 License option in Ifza Freezone Dubai
Professional License | Businesses providing professional consultancy and multiple types of services, for example technical, lifestyle and similar types of services.
Commercial License | Businesses engaged in the import, export, distribution & storage of specified items.
Industrial License | Import of raw material, manufacture, process, packaging, and export of specified products. Available upon request.
Branch License | Foreign incorporated companies may also register a branch at IFZA.